Do you want to renew the decoration of your bathroom? In this post you will find the best decorating tips for small modern bathrooms. First, we will focus on some specific tips that will help you design and perfectly plan your bathroom and then, with the help of photos, we will see how you can get the best performance to your bathroom, hands on! If you wish, you can complement the decoration of your bathroom with Policrete floors to give it a spectacular touch.
Essential tips for decorating small modern bathrooms
Time passes, we change, the world around us changes, however, our house does not change unless we decide to do it. Take the initiative to remodel the rooms of our home is essential not to live forever in a scenario anchored in the last century. Today we offer you 20 decorating ideas for small modern bathrooms. We hope that thanks to this, you will get the bathroom of your dreams no matter how small it is.
Rectangular or oval sinks basin with hanging cabinet for your small bathroom
It is the new trend in the decoration of modern small bathrooms, and is that the sinks with the rectangular or oval pike are the most comfortable and modern, they adapt better to the space and get better benefits. In addition, that the cabinet is supported on the wall without the need for legs, optimizes the stay to the maximum, don't you think it's a great idea?
Wash basins with two sinks: improve the functionality of your bathroom
The two sinks are ideal especially in small modern bathrooms with rectangular distribution. The elongated sinks allow the placement of two pikes, one next to the other, a great idea if you share a bathroom at home (goodbye to the queues to get ready!).
Bath and shower in your small modern bathroom, it's possible!
In a small space you can take advantage of the space to integrate both the shower and the bathtub, this way we can have two in one. As always, the key is to know how to distribute all the elements so that everything fits.
Corner showers, ideal for modern small bathrooms!
A corner shower with a current screen can be a very successful solution for the design of small modern bathrooms. The smaller your bathroom, the better the place to place a shower in the corner, which will take advantage of a lot of space, especially in small modern bathrooms with a square floor plan.
Integrate the toilet with the furniture of the washbasin and the bathtub in the same wall
How to decorate modern bathrooms in small spaces? Many times the answer to this question is simply to use ingenuity. If you have a square bathroom, a good way to take advantage of this space is to place the sink, toilet and bathtub on the same wall. In this way everything is well ordered and not every element in a place in a chaotic way.
The white color, ideal for modern small bathrooms
The color white is one of the most used colors in the decoration of small modern bathrooms, the reason? Very easy! Warm colors such as the aforementioned white, creams, grays and others help us to make the space much brighter and more spacious, which is why most bathrooms of small dimensions use this color combined with other light shades.
Between shower and bathtub for your small bathroom … always shower!
Many times we have doubts about what is best for our small bathroom: shower or bathtub? For space, comfort, use, cleaning, for almost everything, we always recommend placing a shower. The bathtubs occupy more space, and, in the long run, they are less functional. How many people have slipped trying to get into a bathtub? A shower is much safer too.
Make your small modern bathroom look bigger with mirrors
Among the multiple tricks that exist for a small bathroom look bigger, we highlight the use of mirrors. A mirror placed strategically on the wall, will make your modern small bathroom look much bigger.
Tiles for small bathrooms: choose a style
Most bathrooms have tiles, as they are the ones that best protect the walls of our modern small bathroom. However, the decision to choose the right tiles is yours. There are people who prefer them smooth, others who prefer elegant prints and others who prefer murals. You don't have to put the same tiles throughout the bathroom. If it's a very striking tile, you can choose to put it only on a wall.
Touches of wood in our modern small bathroom
The use of wood is very typical in the decoration of small modern bathrooms, especially in the decoration of Nordic-inspired bathrooms. The wood is beautiful, inspires us and gets our bathroom to have that zen style that relaxes us.
Minimalist bathrooms for a modern bathroom

One of the most basic tips of the decoration of modern bathrooms, as you can see in most of the photos of these modern and small bathrooms, show us a very concrete type of bathrooms, with simple, basic and simple forms, without moldings, this Type of features respond to the name of minimalism, where less is more.
Save space in your small bathroom with floating toilets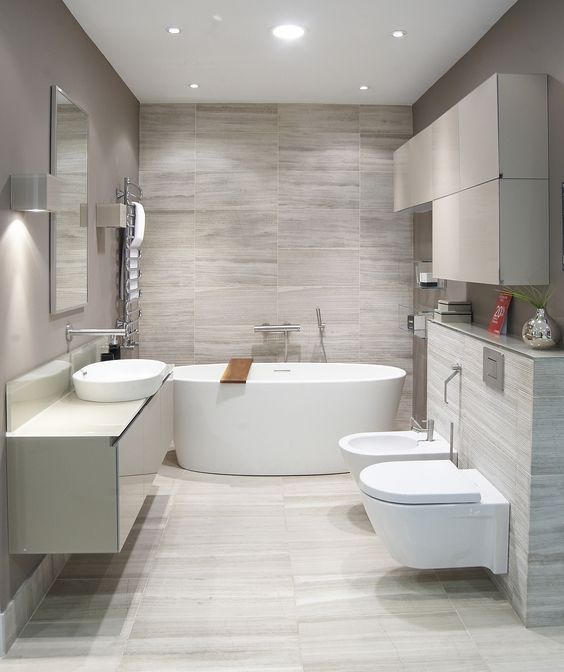 The floating toilets occupy less space since it is a floating toilet on the wall, with integrated cistern, very easy to clean. How to decorate a modern small bathroom is based above all on the use of modern ideas that we can find today in specialized decoration portals.
Sliding doors to have more space available in your bathroom
More and more people are betting on sliding doors for modern small bathrooms and they help us save a lot of space, as well as being very comfortable to use. There are more or less simple models, although today there are DIY projects (that you can do yourself) with a certain vintage touch.
Choose the decorative style of your bathroom
Although many times when we talk about small and modern bathroom we imagine something minimalist and contemporary, the truth is that as "modern" we could choose any type of decorative style that is fashionable: vintage style, Nordic style, eclectic style, boho chic style , minimalist style, contemporary style, rustic style, … Choose a style that you like and that goes according to your personality and … voila! You will give character and personality to your bathroom.
Rain showers, the latest in modern showers!
They are the most of the most, the latest in decorating small modern bathrooms, these types of showers allow you to bathe feeling like the water goes down from the ceiling to your skin as if it were rain. It is very relaxing and usually has other options of hydromassage and water jets. A great idea and very modern.
Modern small bathrooms with colored furniture
When we talk about decorating our small bathroom, it is important that we think about the furniture we are going to use to "dress" it. Although we have emphasized the use of white, there are modern bathroom furniture designs filled with vibrant colors like yellow or red. If you want to decorate a small modern bathroom in a fresh and youthful way, this is a good option. Remember: furniture for small modern bathrooms can turn an ordinary bathroom into a dream come true.
Decoration of small modern bathrooms with natural touches
One of the best ways to make your bathroom look fresh and cozy is by placing plants and flowers in the corners, or on the countertop, or wherever you want! Any place can be good to give a little joy to a small bathroom.
Black and white: a winning combination in the decoration of modern bathrooms
One of the most optimal color combinations in the decoration of modern bathrooms, is the combination of white and black. If you do not want to risk bright colors but you don't want to stay with white either, you can take advantage of and combine black and white so that the contrast makes it look small, even if it is small.
The symmetry to decorate your small bathroom
One of the basic characteristics that is used to decorate any space is symmetry, because it helps us to give harmony to the whole. The symmetry is to place objects symmetrically in the same space. For example, if we have a bathroom with two sinks, we can decorate each of them with the same things and the same way, this will help us create a perfect balance in our bathroom.
Source & pictures: inspirahogar.com
https://www.policrete.com/wp-content/uploads/2018/10/FOTO-ARTICULO-BAÑO-PORTADA.jpg
342
760
Romel
https://www.policrete.com/wp-content/uploads/2020/12/policrete-logo-180x50-1.png
Romel
2018-10-02 10:34:24
2019-05-13 16:28:32
20 Ideas to decorate your small bathroom with modern finish